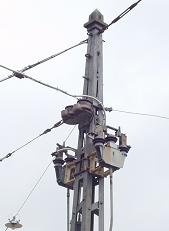 Connection The power is going out to the catenary.

Knotmasts The masts are from the the area NESA's supplies. They are cotted of their old foundations, so they are shorter, but long enough for the catenary. They can bear a pujlle from all sides, they are strong on both sides.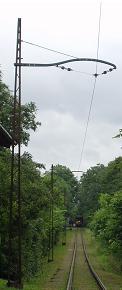 Mast width lattice The sdandard mast can only be pulled to the long side. The lefst side of the mast is total vertical, but the right side is sloping. In this way the mast kan take a pull to right. The boom, whish bear the cables, are for different towns in Germany. The catenary is six meters over the tracks.